LifeLike Taxidermy is a full-time, licensed, fully insured taxidermist which has been in business at this location since 1989. All the equipment (tanning machines, freeze-dry units, camo-dip tanks) and dermestid beetles to clean skulls, are on location, therefore we do not need to send anything out for any services. We do not use any artificial noses, lips, fish heads, turkey heads, or fiberglass fish unless requested. We also clean mounts of any kind.
LifeLike Taxidermy accepts all major credit cards, checks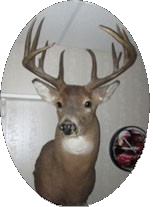 and cash. We will devise a payment plan that enables the customer to pay over the course of the processing of the mount so it can be paid in full when completed.
LifeLike Taxidermy is located in Franklin, PA, the county seat of Venango County in western Pennsylvania, a short scenic ride north of Pittsburgh, PA. We are easily accessible from Interstate 79 or Interstate 80 and also near Grove City, Butler and Mercer. Also have a clientele in these cities, Clarion, Kittanning, Tionesta, Erie, Brookville, Greenville, Meadville, New Castle, Oil City, Parker, Titusville, Warren, Knox, Beaver Falls, Hermitage, Sharon, Corry, and all of northwestern PA.
Wholesale prices for tanning, mounting, freeze drying, beetle cleaning and hydrographic dips available upon request.
Thanks for checking out our site. Please contact us with any questions.
Good Luck and Safe Hunting.